I have successfully made hand pulled noodles (la
mian
, la mien). It's taken me about 35 batches of dough and a lot of experimenting. The pulling part requires a bit of technique, but without a proper recipe, it's possible to have dough that will never reach a point where you can pull it. That's a bit disappointing.
So the first thing to deal with is a good recipe. I went through 21 different dough recipes. The good news is I found a proper recipe that works really well. The bad news is
I've done all my recipes by weight
. That's a little scary, but it's the only way to get a perfect ball of dough every time. If anyone comes across this and wants to try to convert to a volume based recipe, feel free, but i recommend going out and buying a cooking scale. It will save a lot of time if you're planning on committing to learning how to pull noodles.
Ingredients for making hand pulled noodles are relatively simple. You need flour, water, some oil, and a little salt. In addition, you can add some lye water, which I'll talk about at the end.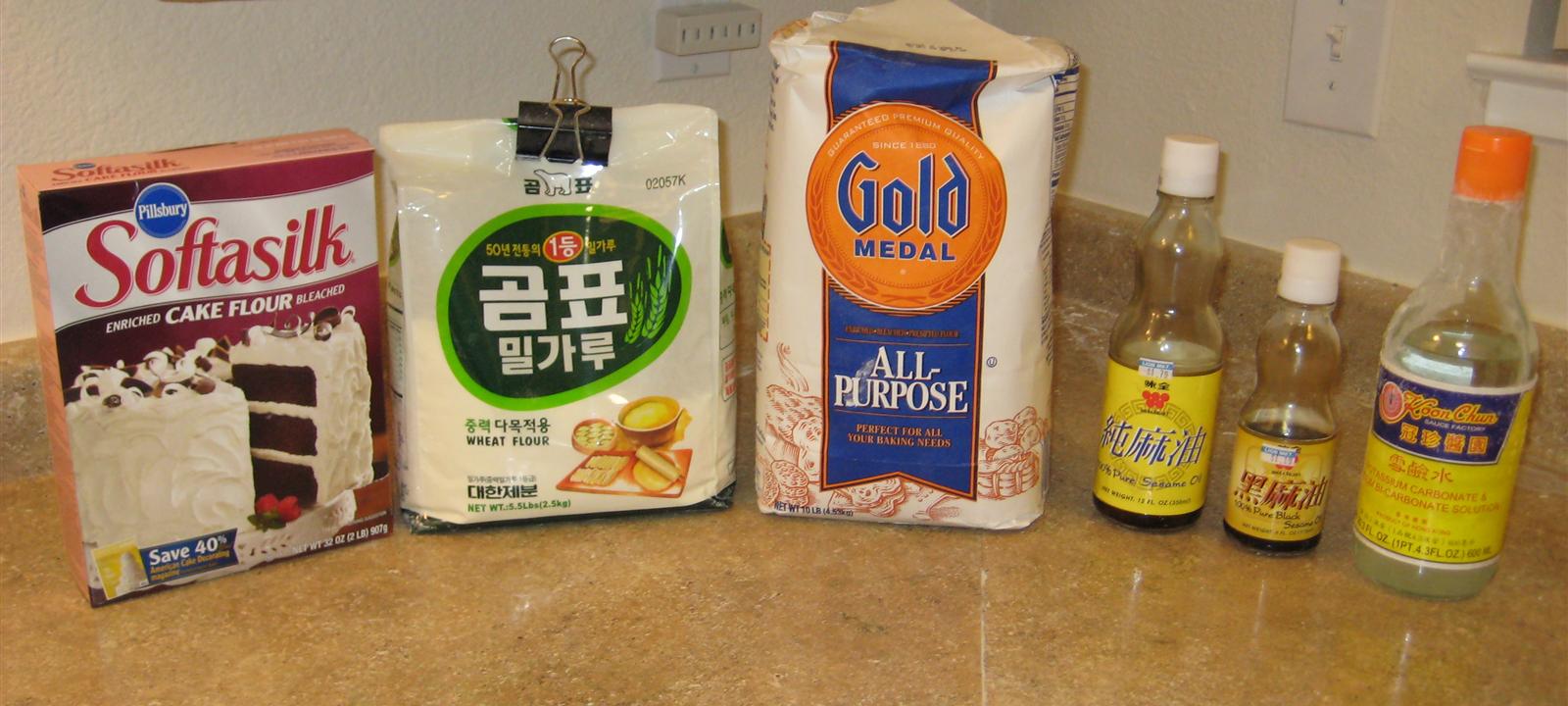 Flour
Flour is probably the most troublesome of the ingredients because you have to get your gluten levels just right. The gluten is what makes the dough stretchy. In my experience, too much gluten will result in a dough that will never reach the right texture for pulling. It will tear very early. A proper amount of gluten will result in dough that stretches into hair thin noodles.
I started out working with some flour I found at an
asian
market near my home (it's called
Marina Food
and it's in
Cupertino
, CA). Unfortunately, it seems this flour isn't readily available everywhere, and it seems to be sold out at Marina pretty often. For the record though, here's what it looks like: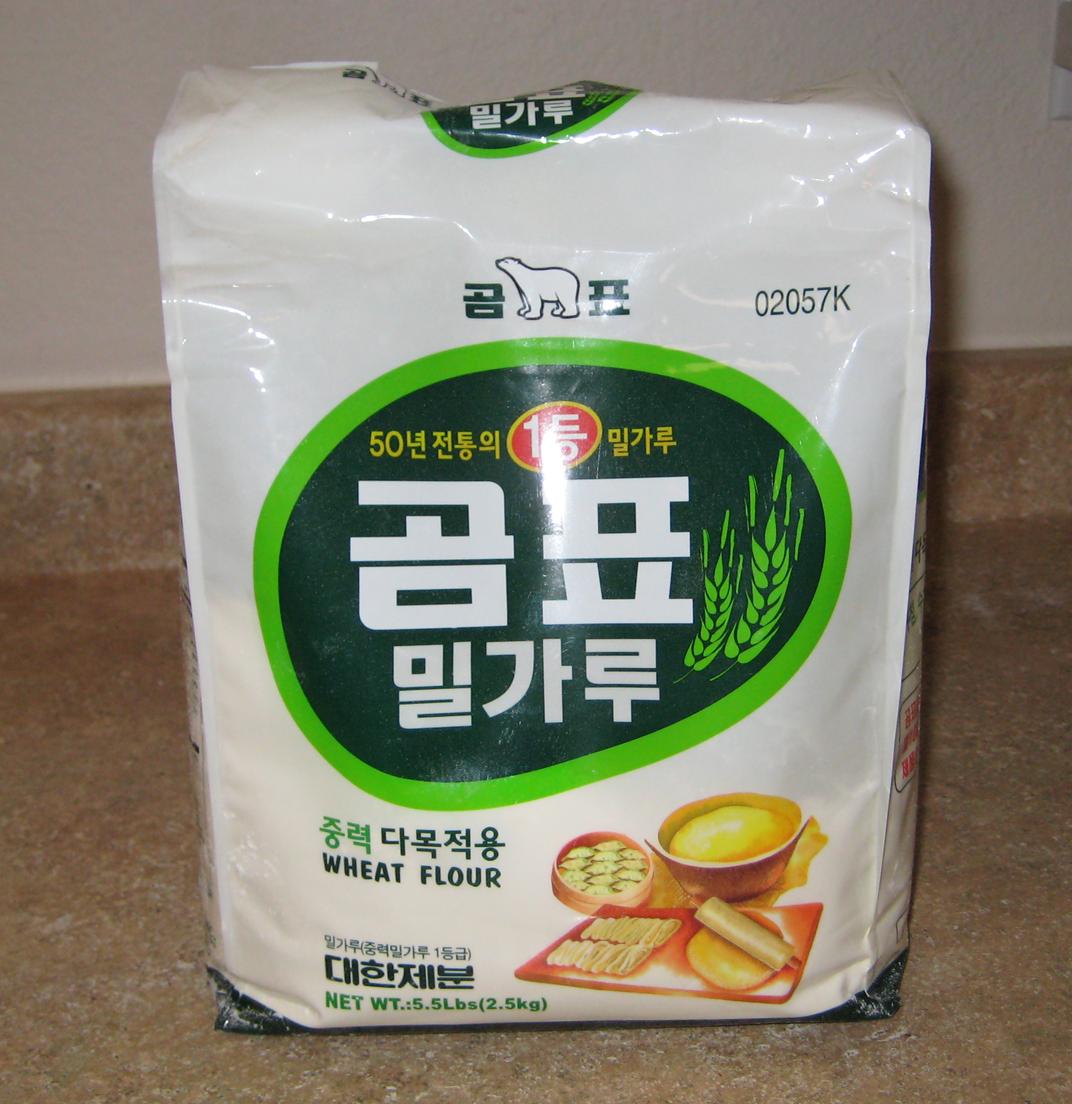 and the nutrition information: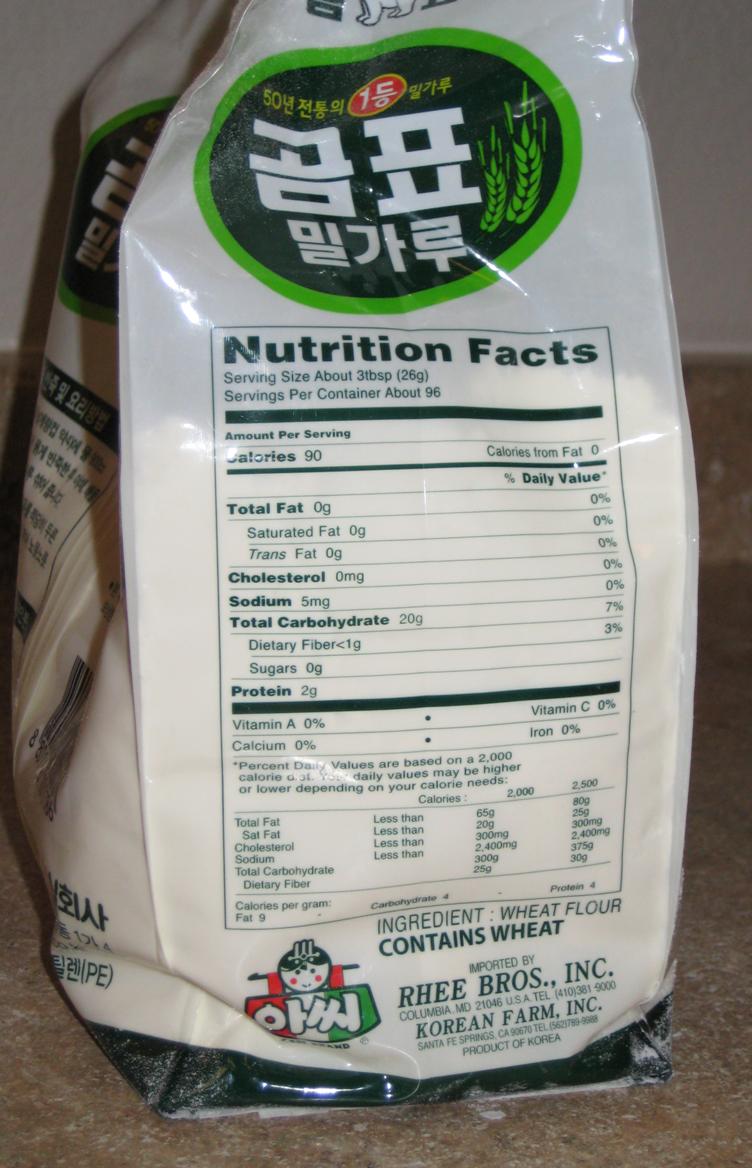 This Korean flour seems to have just the amount of gluten in it, but a flour mix with more common flours is more useful to people who can't go to Marina to get this. The solution to getting a proper mixture with normal American flours comes from
this recipe
. However, in my searching, I have been unable to find proper "Pastry" flour, but I've been successful with cake flour. For my recipe, I used
Softasilk
cake flour and Gold Medal All-Purpose flour. These were available at my local Safeway, and you can see them in the
image
above. Here's the nutrition information just in case you need it:
for the
Softasilk
: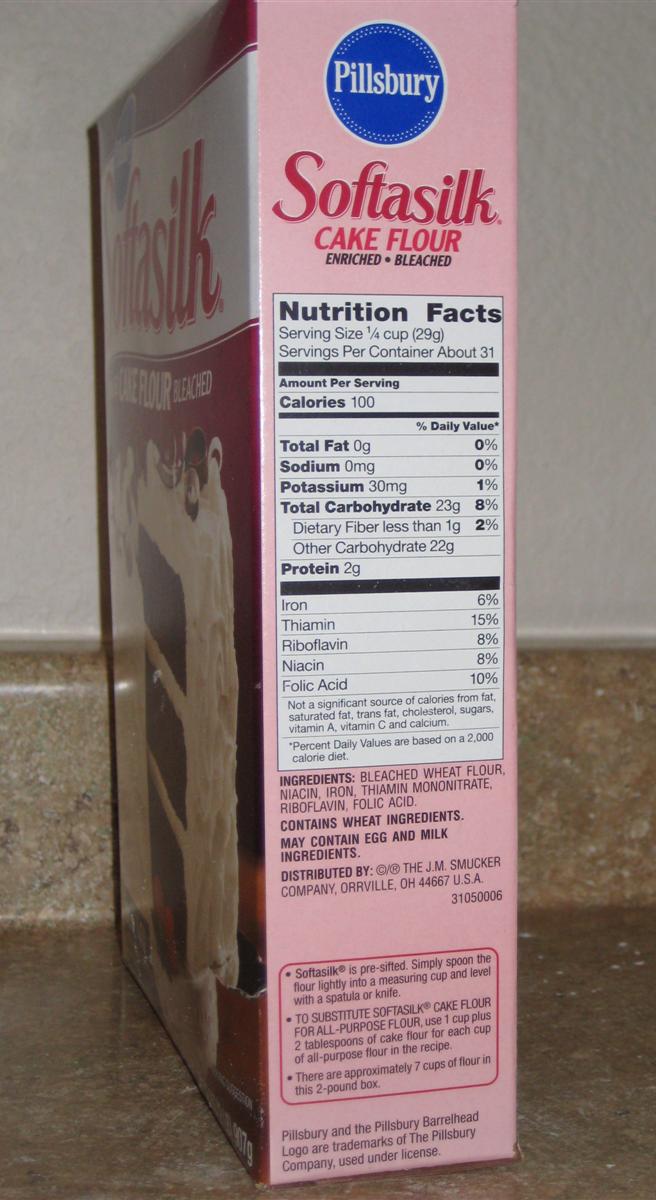 And for the Gold Medal: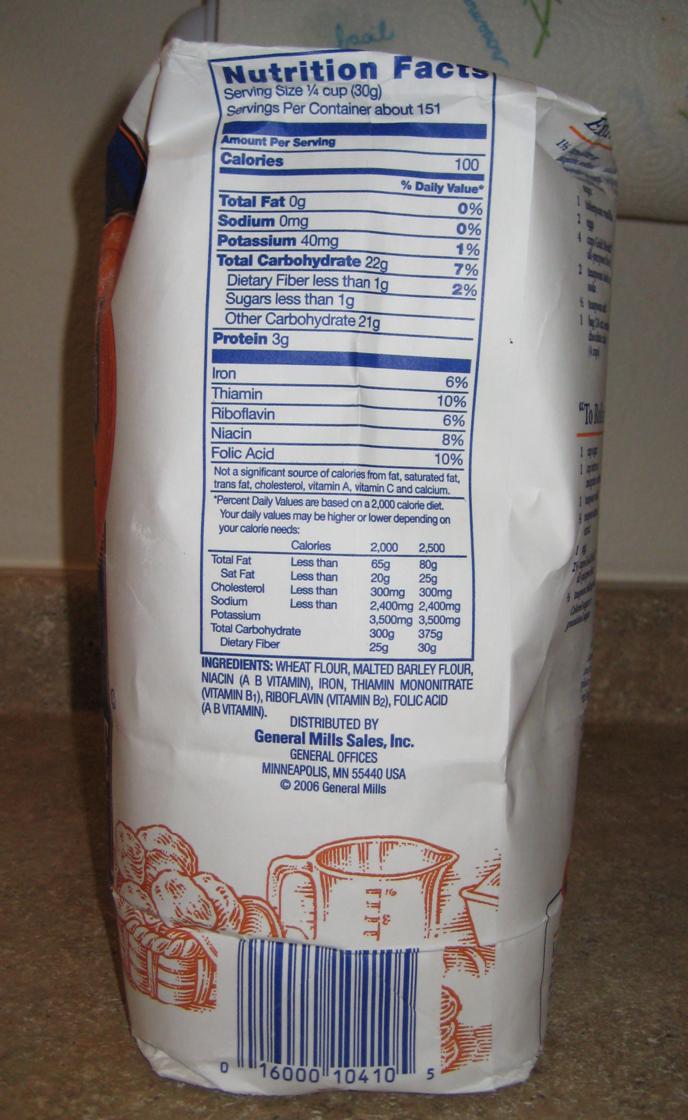 Now if you can find it, I had really good luck with the Korean flour, but the cake / all-purpose works really well too. If you do go with the Korean flour, just use it as 100% of your flour. The recipe I post will be for the cake / all-purpose mix. Regardless of what you choose to use, your recipe should contain about 59% flour.
Water
Water is pretty simple. Water from the tap is just fine. I generally tried to use warm water, as the dough is much easier to work with when it's warm. In my recipes, I use about 31% water.
Oil
The purpose of sesame oil in the recipe is for a couple things. The first is flavor. The second, more importantly, is that it gives the dough a bit more springiness when you're trying to stretch it. It's almost like liquid
rubberband
. Thirdly, it helps keep the dough from sticking to your hands. This means we can make a wetter dough recipe and still knead it easily. I've tried recipes with no sesame oil, recipe with a little, and recipes with a lot. I've had the most success with recipes that have 8-9% sesame oil.
You can use any type of sesame oil. I tried a recipe with a sesame /soy oil that did not work well, so i recommend using 100% sesame oil. The green bottle that's generally available in the ethnic section of a supermarket is good. I've also been successful with random sesame oils from
asian
markets, too.
Salt
Salt is generally for a little more flavor in the noodles. I did, however, try a recipe with 2% salt, and it made the dough very tough (to a point that i couldn't pull it). I recommend about .3% salt (which comes out to 1 gram in my recipe).
Lye Water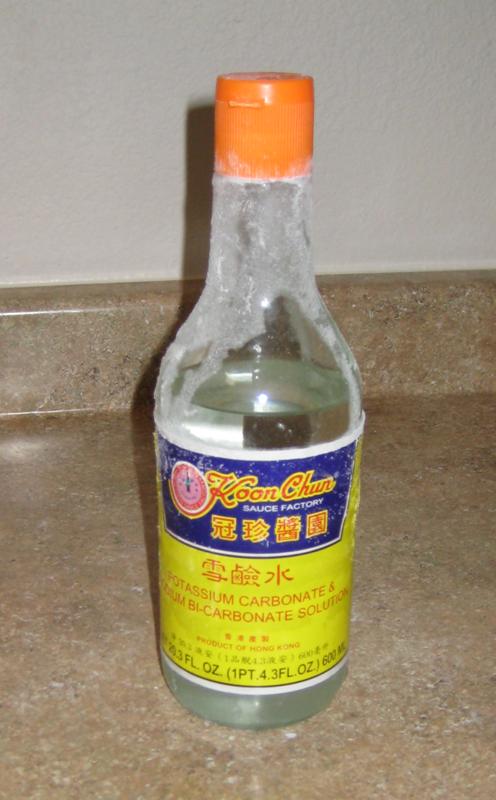 If you read through forums about hand pulled noodles, you'll read about "lye water" and "
kansui
powder". I was unable to find anything called "
kansui
powder", but i did find lye water. Most
asian
markets have it alongside the oil and soy sauce related ingredients.
Lye water is supposed to be the secret ingredient in hand pulled noodles. I've tried recipes with it and without it, and it does not make the dough any easier to pull. There's almost no difference in the dough when using lye water, although if you use too much, you'll get something a lot like when you add too much salt. The dough will be too tough to pull. I've come to a happy ground with about 1% lye water in my dough.
What lye water DOES add is a nice bit of chewiness to the noodles. The flavor is supposed to be slightly different, too, but i haven't noticed that yet. I'm always just happy that i was able to make some noodles :D
I'll post two recipes, one with lye water, and one without. You can be the judge.