I have successfully made hand pulled noodles (la
mian
, la mien). It's taken me about 35 batches of dough and a lot of experimenting. I talked about the ingredients in my
last post
, and now it's time to talk about a recipe.
I'll give a couple recipes (one with lye water and one without), and then provide some instructions on how to mix the ingredients together. Should you need more information about the ingredients, I've made a
post
talking about that.
Note that these
recipes are by weight
. You'll need a kitchen scale to make these (or you could try converting them to volume measurements). I recommend a digital scale since it's more precise. I've created these recipes by weight because it's the only way to get a perfect mix every time. If you follow these recipes, you shouldn't need much (if any) flour during the kneading process.
Each recipe is 300g total. This is enough to make noodles for two people who like noodles, or three to four people who just want to see you make hand pulled noodles.
Hand Pulled Noodle Recipe #19 - with Lye Water
152g cake flour
24g all-purpose flour
1g salt
25g sesame oil
95g water
3g lye water
Hand Pulled Noodle Recipe #21 - without Lye Water
152g cake flour
24g all-purpose flour
1g salt
28g sesame oil
95g water
Now for the mixing process. I've been successful with the following, but feel free to try your own way. I don't think it makes a huge difference, as long as the lye water (if you're using it) goes in last.
Step 1, measure your flour into the bowl: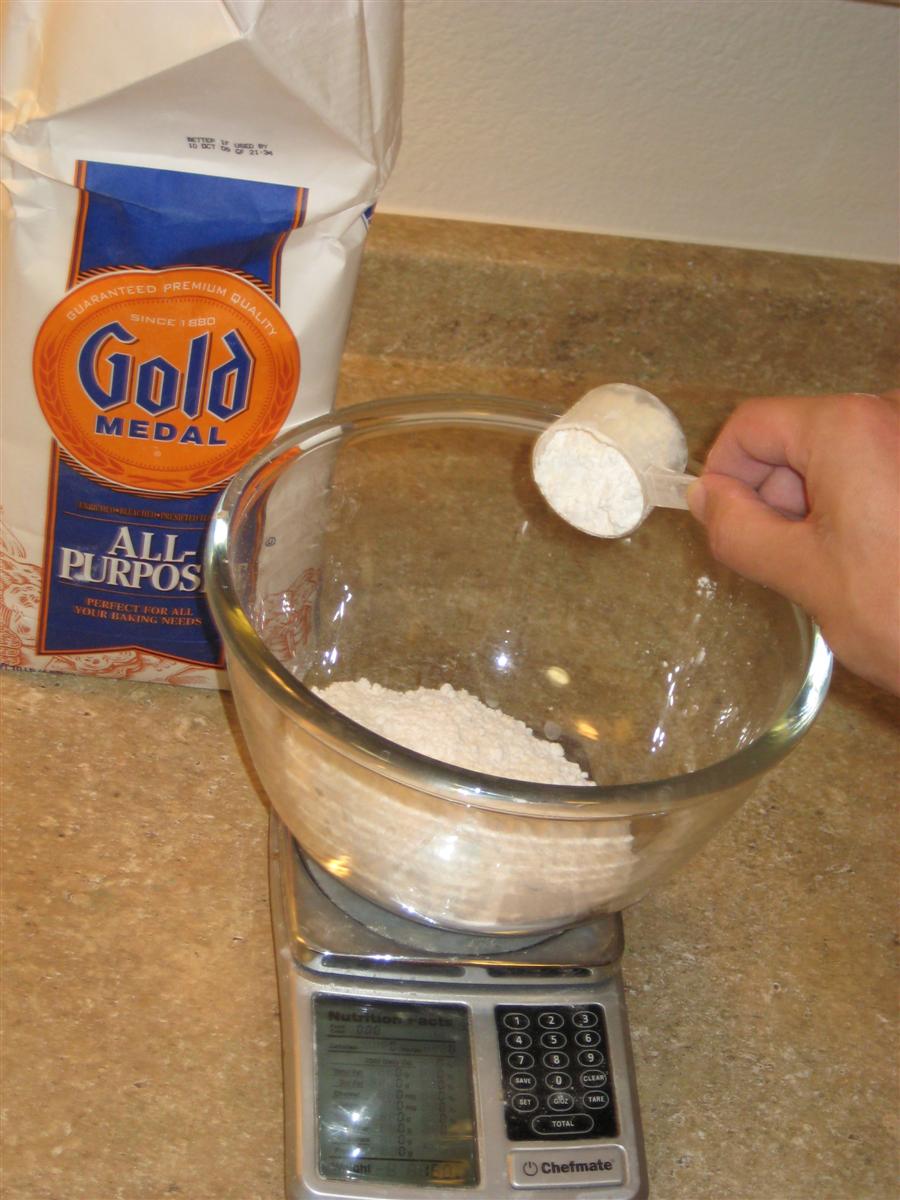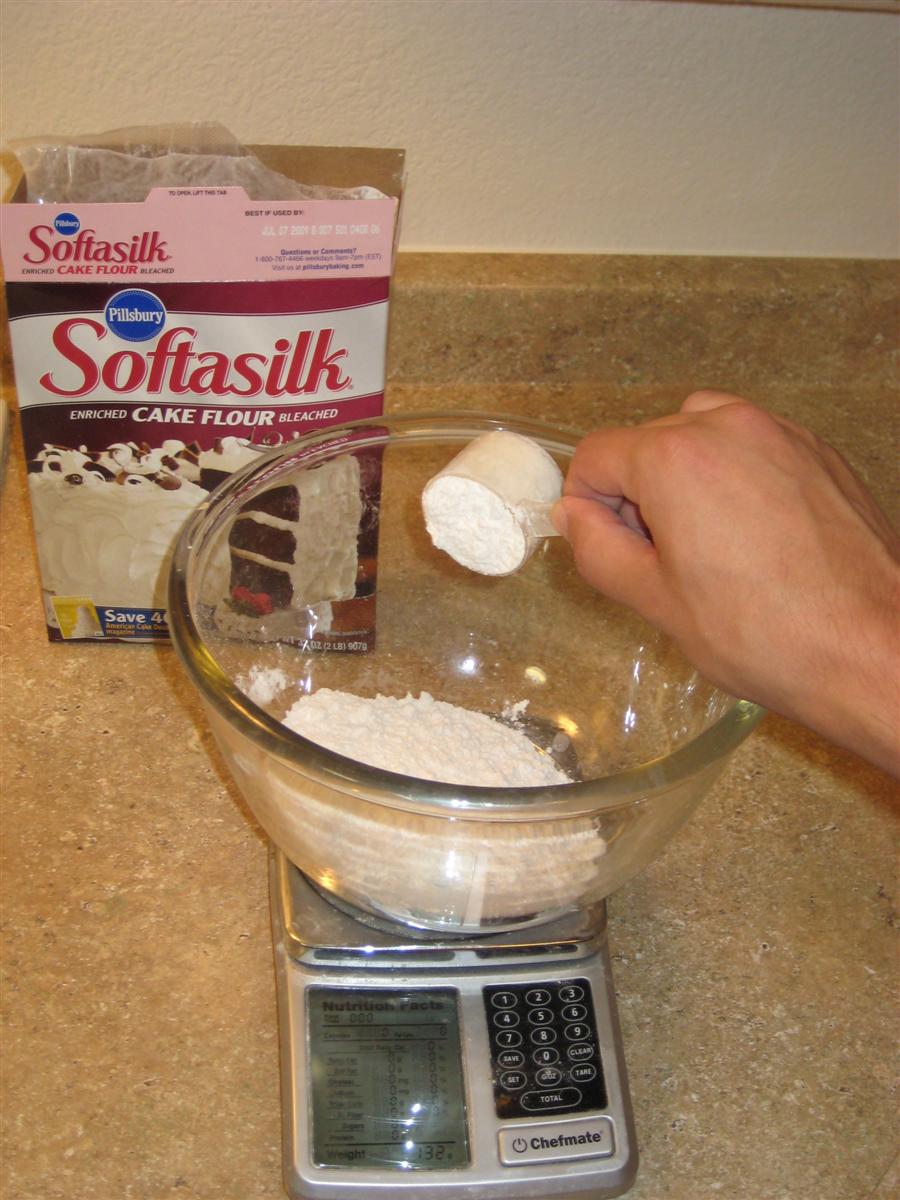 Step 2, add salt: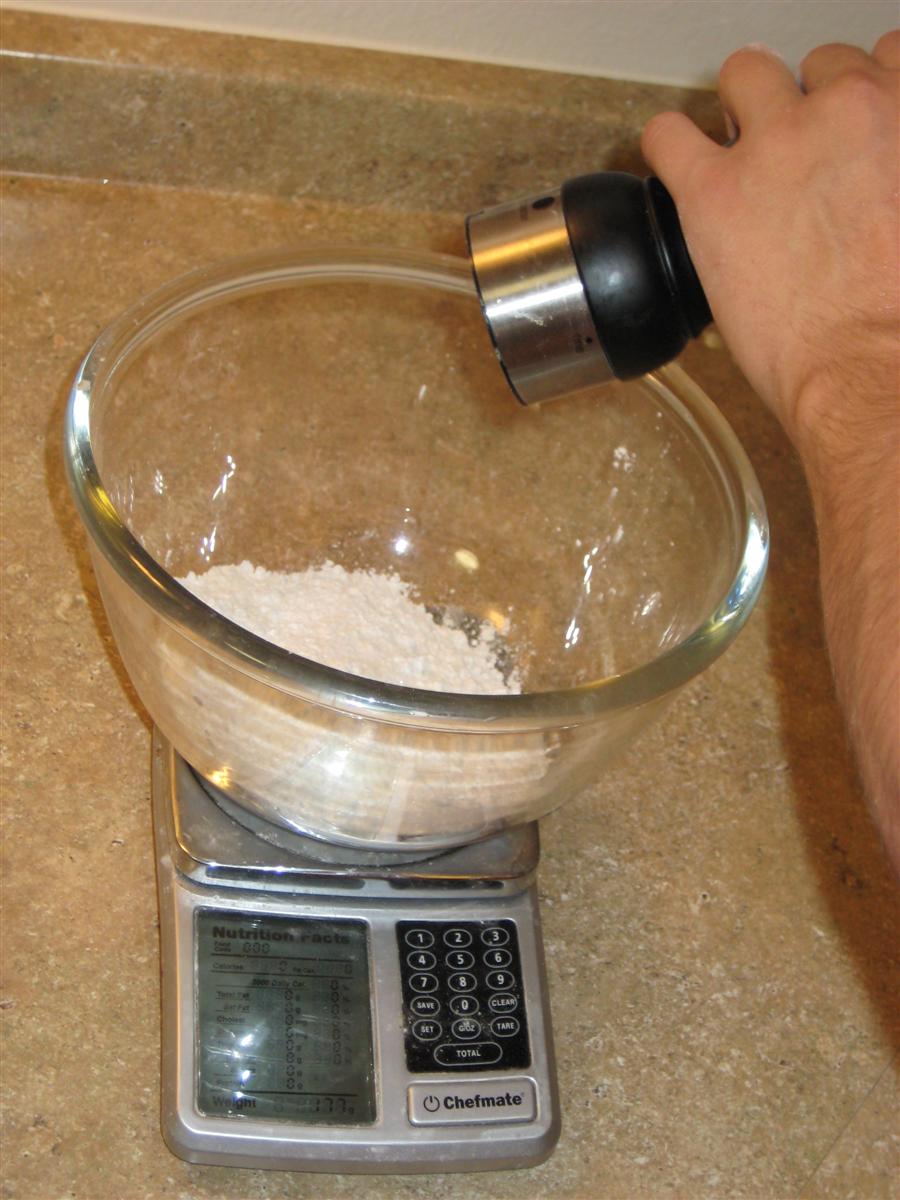 Step 3, add oil: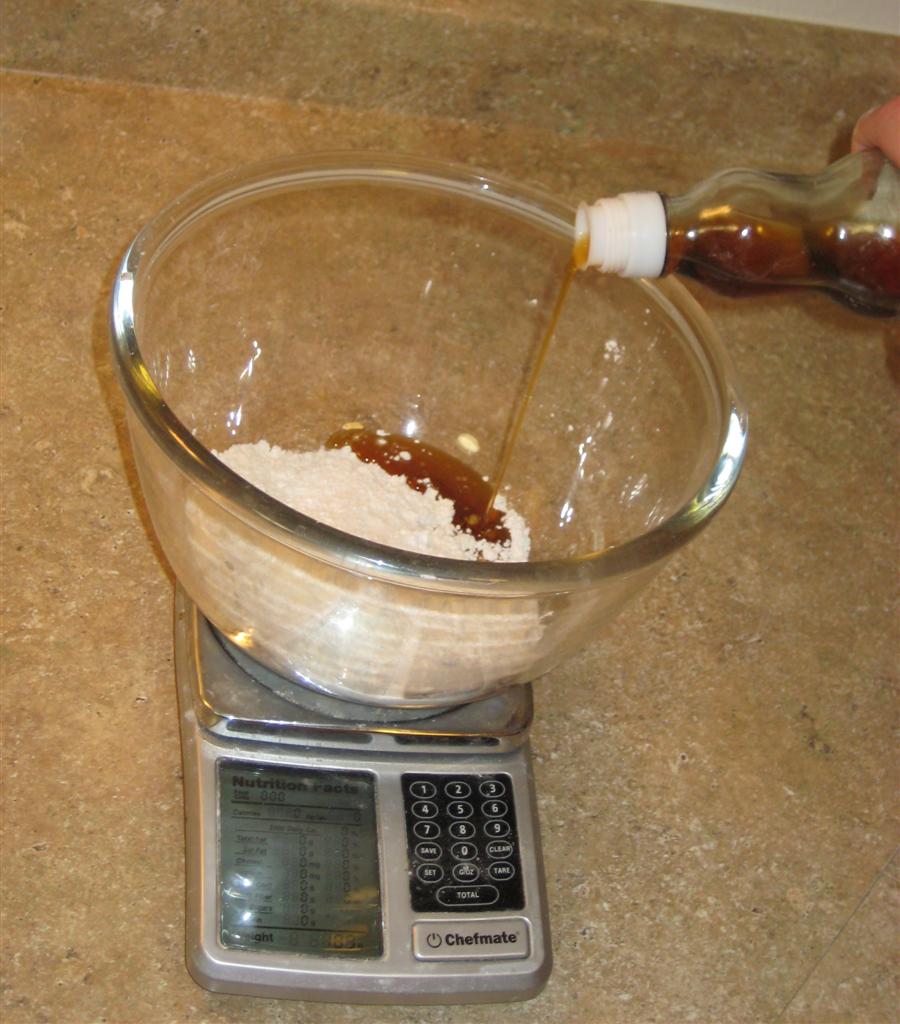 Step 4, add water: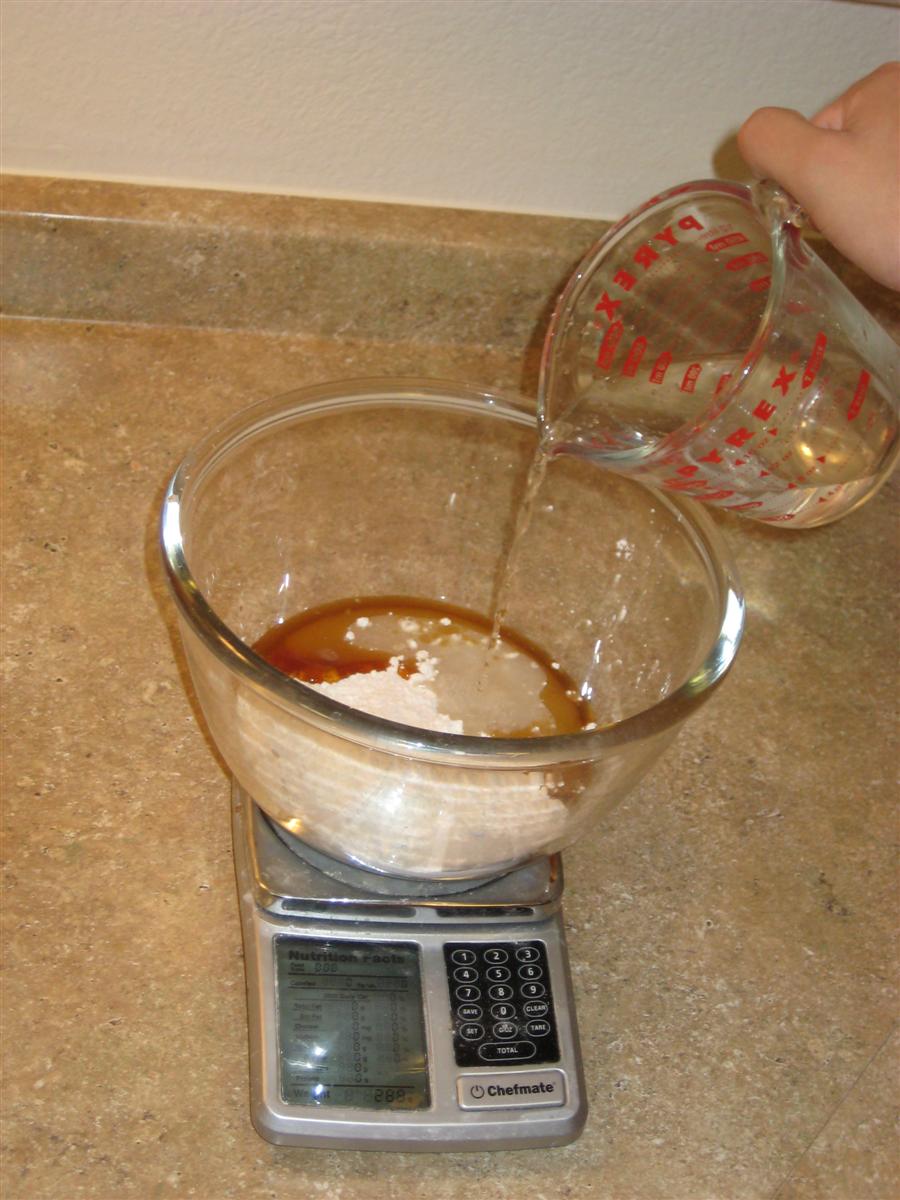 Finally, if necessary, add your lye water. Be careful here as you only need a little, and I found that my bottle sometimes got excited about pouring itself into my mixture :D.
For the mixing, you can just take a heavy spoon and start stirring. It should look like this as you work: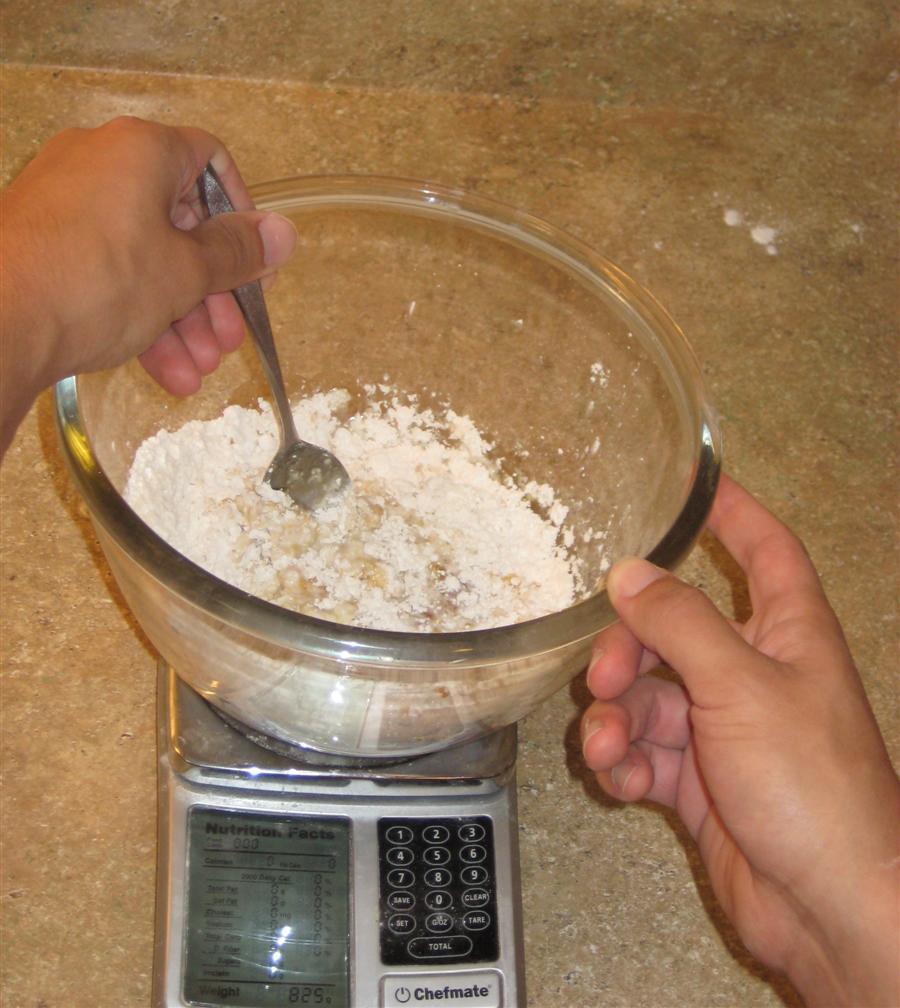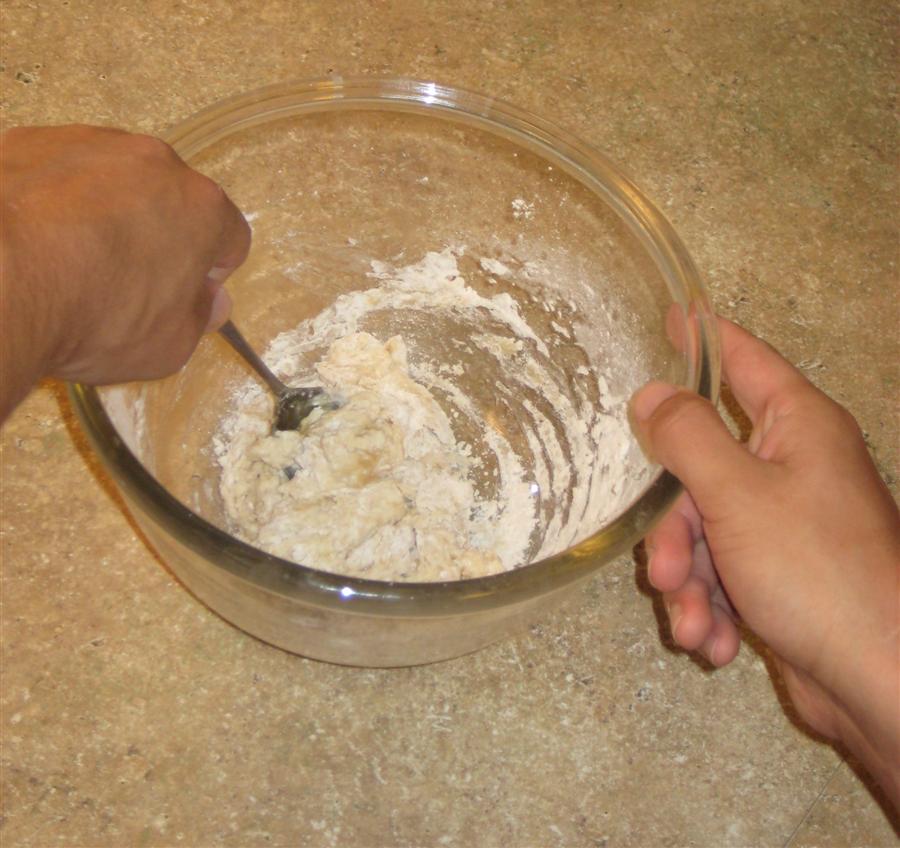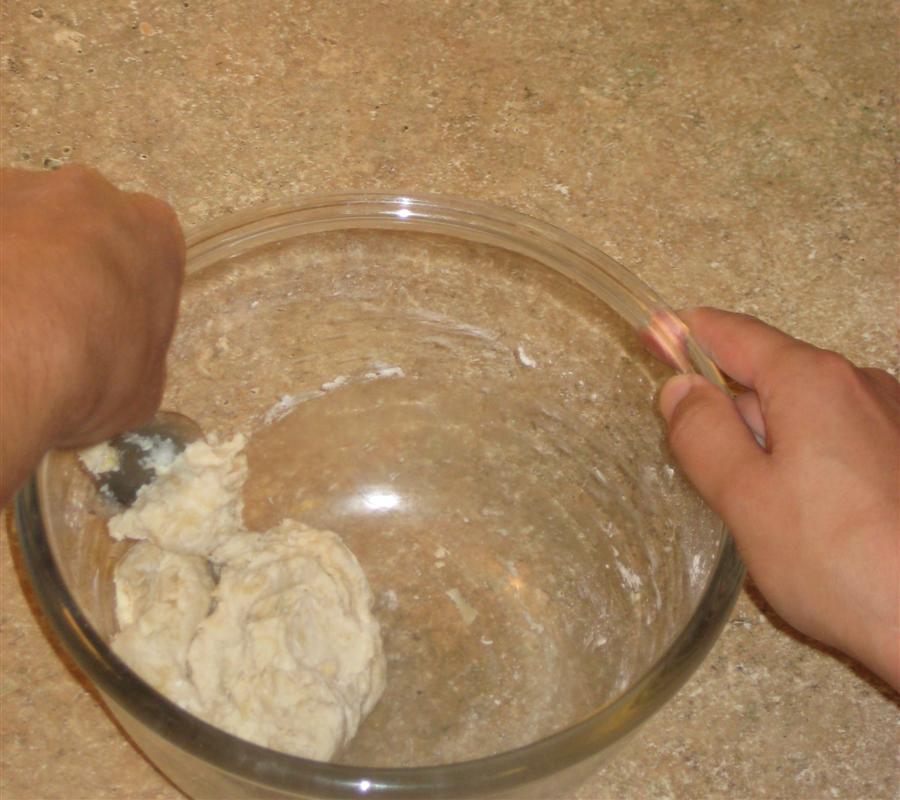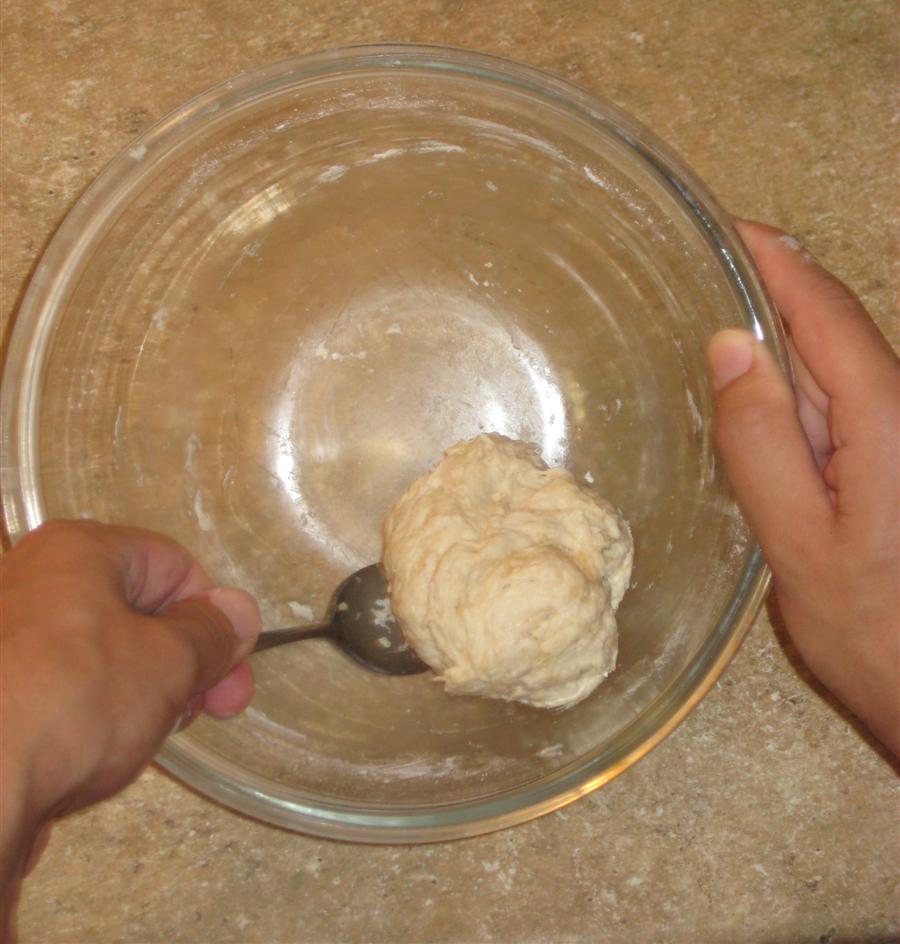 And finally, when when you've got it into a nice ball, you should be able to see that it is very uneven. You should knead it for a few minutes. There will be oily spots and dry spots. This smooths out very quickly. Be careful when kneading, though, since this dough is right at the edge of being too sticky. If you're quick enough, it won't stick to your hands. If you have to, though, adding a little bit of flour to keep it from sticking to you is just fine. Here's the progression from chunky to smooth, to give you and idea of how to knead it: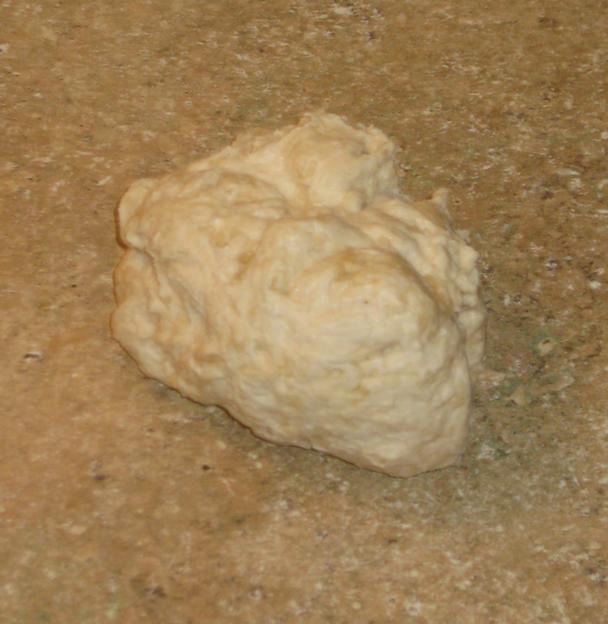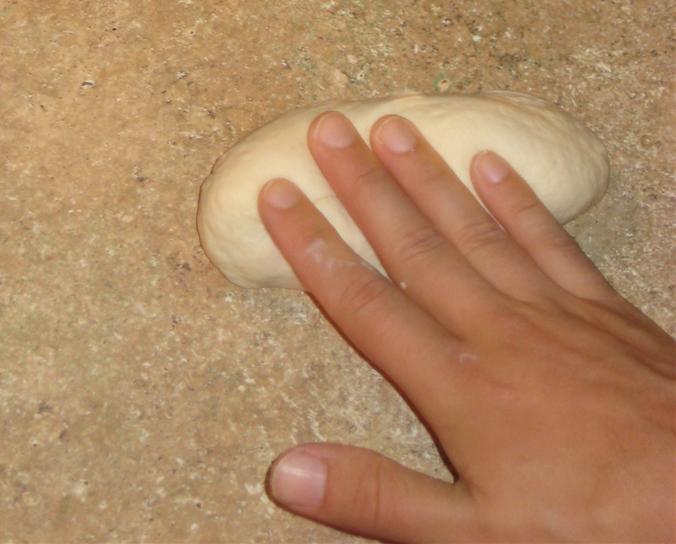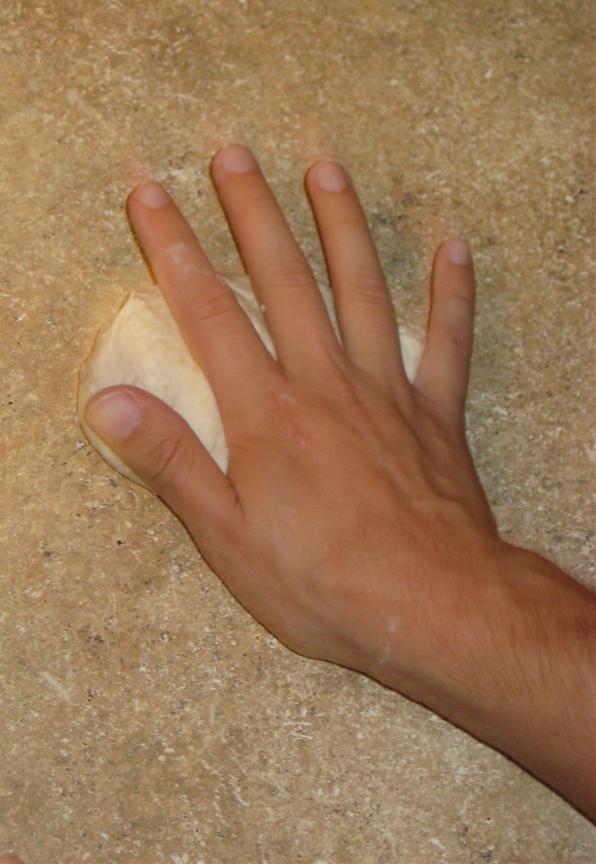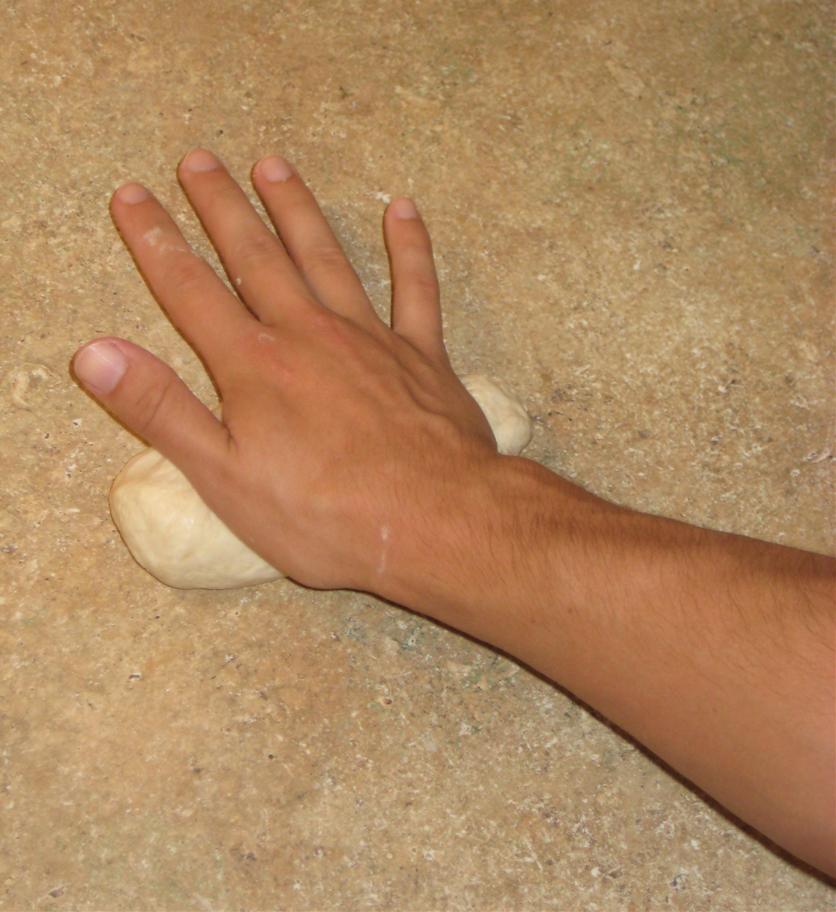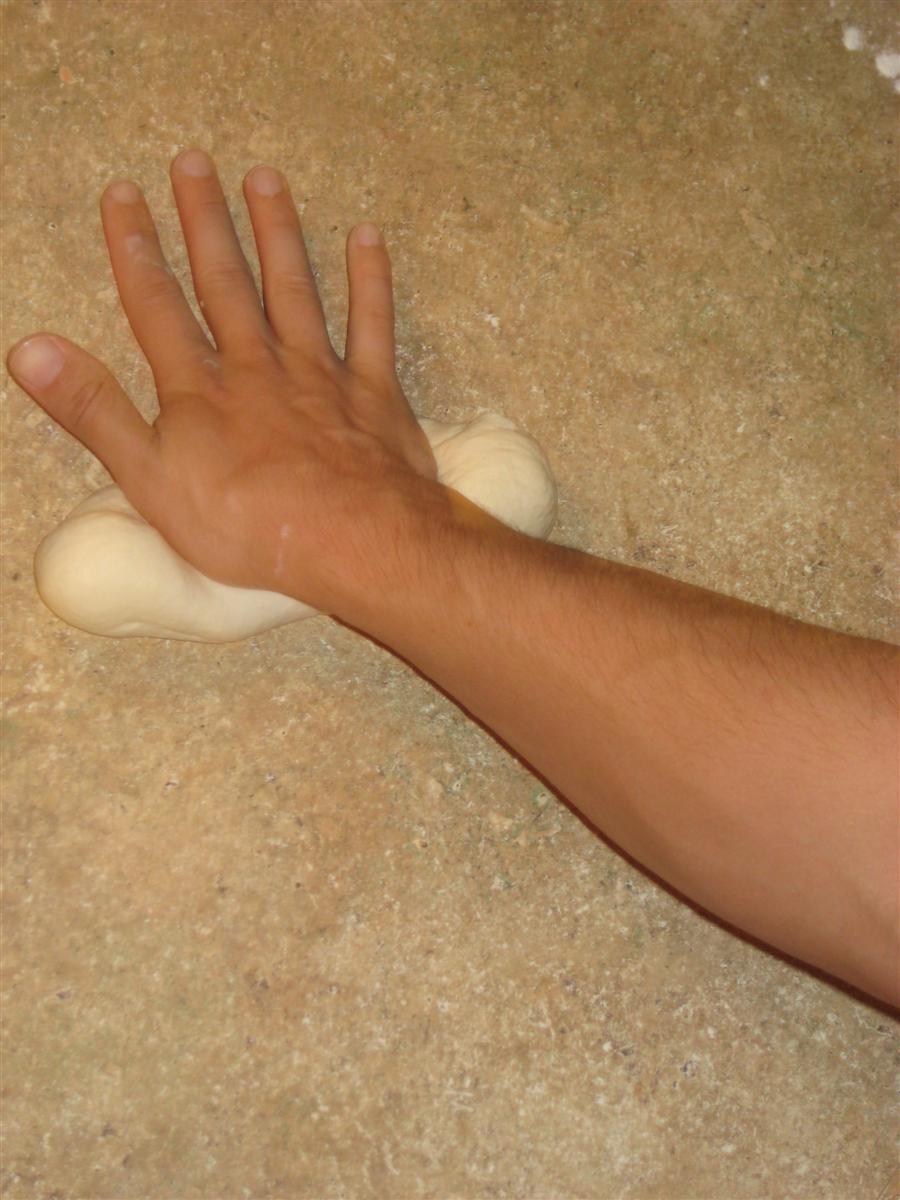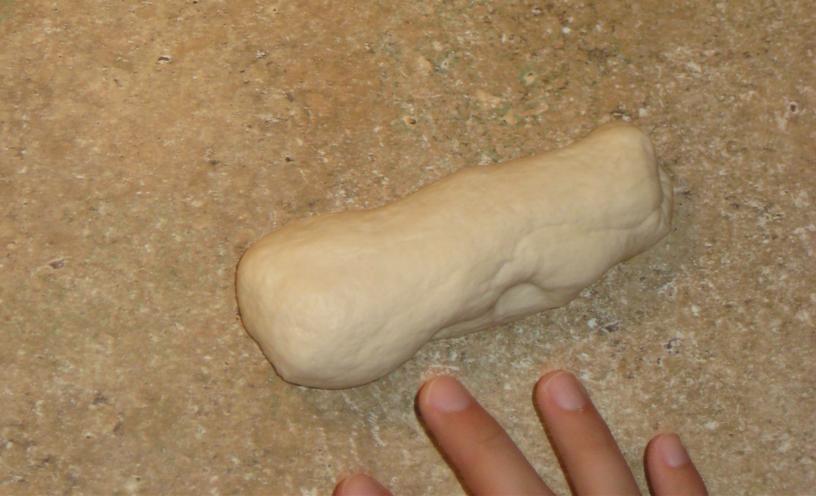 and now you've go hand pulled noodle dough. You can stick this in a
ziploc
baggie for later, or dive in and try to make noodles. I've found that keeping the dough in the fridge overnight makes it a little easier to get the dough to a point where you can pull noodles, but you can still pull noodles from fresh dough. The difference in knead times is about 15 minutes for overnight dough versus about 25 minutes for fresh dough.
My next post will talk about some pulling techniques. I've yet to perfect my ability to pull noodles, but I can pretty much get noodles every time I try now. The good news with this dough is that you can try repeatedly, and you can actually re-wet the dough if you feel like it's drying out a bit. Once you get it to a point where it can be pulled, it's very forgiving. I'll save the details for my next post.